By
Carol Dempson
May 21, 2013
Medik8 CE-Tetra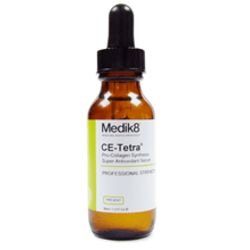 A Vitamin C serum designed to treat sun induced damage, this product is made for women and men in their mid-twenties to forties. It is said to penetrate the skin and repair damage, improve the elasticity of the skin as well as the density. It also claims to stimulate collagen production and improve the texture and appearance of skin, adding an overall brightness to the face. The collagen production that is claiming is only possible with a pretty significant amount peptides or stem cells, or a certain type of Vitamin C, so let's look at the ingredient list and see if this serum can deliver the results it promises.
History of Medik8 CE-Tetra
Simmondsia Chinensis Oil – This is Jojoba oil, which is a lubricant. It's doesn't do much by way of function, and it therefore a filler ingredient. Since it is listed first, this serum probably contains more jojoba oil than any other ingredient, meaning that you are paying for something that is not helping you.
Tetrahexyldecyl Ascorbate- This is the Vitamin C complex that claims to penetrate and heal and rejuvenate the skin. Sadly, Vitamin C cannot penetrate past the epidermal layer unless you are using L-Ascorbic Acid.
Cyclopentasiloxane, Cyclohexasiloxane – These are silicone based ingredients, commonly found in hair sprays or conditioners. They are wax-like and protective, but they are superficial and also cannot provide the in-depth treatment that this product promises.
PPG-12/SMDI Copolymer- This is an emollient. These are beneficial, providing hydration for the skin.
Tocopherol (d-Alpha) – This is vitamin D, used in cosmetic products as a cheap antioxidant and known to cause irritation.
Benefits
The emollient will hydrate the skin, and hydrated skin looks younger.
Possible Side Effects
Irritation
Conclusion
We do not recommend this product. It is about $100 for one fluid ounce, which is steep price to pay for basically a moisturizer. A serum, because it is highly concentrated, should be expected to deliver impressive results, and we don't think this one will.
Have You Used Medik8 CE-Tetra? Post a Comment!